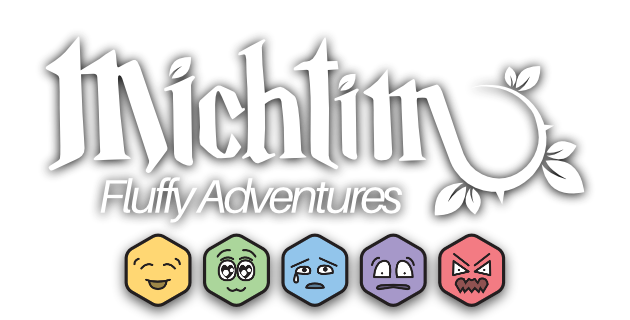 Michtim: Fluffy Adventures
Michtim is my love letter to Saturday morning cartoons like Ewoks and David the Gnome (David der Kabauter in German). It's also an idealistic game, because in this game, it's not about the monsters you slay – quite contrary. It's about exploring a world that's larger and hostile, but that holds wonder and amazement. Michtims want to protect nature; and they want to set humans back on the path to a better life. It can be a heartwarming experience; but it also has tight mechanics and can handle fights.
Watch this concise and wonderful review on TikTok by goblinmixtape!
The game features a totally unique System. Your traits are Emotions, and on rolls that come up as 6, you generate Mood markers of the appropriate emotion. Your character can also have a combination of 12 Callings. These are very minimalistic and simple on one hand, but you can combine them however you like and the best thing: you can play an Angry, a Compassionate or a Scaredy-Cat Cook. There are no favored Stats in this game, so each Class can be played in 5 very radically different ways!

This game means a lot to me, since it marks my graduation into a full fledged Master of Arts; but it's also the baby of my disabled partner Alex and myself. We always lacked a space that was welcoming to us; and with Michtim, we basically wanted to offer peeps a place that's free from oppression.
I really hope you enjoy the game, and as a special offer for you itch-friendlies, I have added all the previously add-on DIY card printing files for FREE.
If you want to buy physical copies, you can get them on my DriveThruRPG.
Purchase
In order to download this game you must purchase it at or above the minimum price of $10 USD. You will get access to the following files:
Illustrated Calling Cards PnP
4 MB
Personality Cards for Quick Play PnP
648 kB
Character Sheet (Revised BETA)
552 kB
Michtim: Fluffy Adventures Core Rules
11 MB
Themebooks (GM Tools or GMless play)
2 MB
Community Copies
Support this game at or above a special price point to receive something exclusive.
Community Copies
Hey. If you're broke and/or marginalized like me, or can't justify paying full price, feel free to grab yourself a free copy of my game. It's totally fine. I rely on Community Copies as well, so don't feel pressed. You deserve some heartwarming Hamsterpunk action! Reward yourself with a trip to Turnaya!